Why Ankle Sprain Braces Are Important for Recovery
Ankle sprains are one of the most common injuries that occur in recreational and competitive athletics, as well as in jobs that require activity. These injuries have a significant impact in terms of athletic participation, work activities, and the tasks of day-to-day living. Resting the ankle and slowly returning to normal daily activities is what is normally recommended, as is using a brace to help stabilize the injury. Stabilization, though, is not the only benefit braces for ankle sprains have. In this blog, we will go over the importance of bracing for ankle sprains.
Reducing Chance of Re-Injuries
Ankle sprain braces are often used to reduce the risk of reinjuring the ankle when individuals return to athletic participation or active work. How they do this is by assisting the internal supports your ankle already has: ligaments, muscles, tendons, and the bones. Ankle sprain braces serve as the external supports to limit certain motions while recovering and provide you awareness of where your ankle joint is in space. Quality ankle sprain braces especially can help decrease pain and swelling, increase stability and provide general ankle support.
Back to Work and Play Faster
Relatively high incidence rates of ankle sprains are common for people who play basketball and soccer, those who are trainees in the military, and individuals with a previous history of ankle sprain injuries. Getting back to work or playing as soon as possible may be at the forefront of your mind, but it's important to give your ankle time to heal. However, stabilizing the injury can help recovery sooner. Ankle sprain braces also help significantly decrease any chances of re-injury while healing, leading to a return to work and play faster.
They Don't Negatively Affect Performance
With few exceptions, quality ankle braces should not negatively impact your performance on the field or the job. Oftentimes, when balanced with therapies and exercises recommended by your practitioner that target range of motion, strength and endurance, your ankle should be stable enough to play or move around. As well, ankle sprain braces help decrease the frequency of recurrent ankle sprain injuries for those who are prone to getting them, helping increase your performance through stability. For maximum effectiveness, ankle sprain braces should fit comfortably in the shoes you wear during an activity, which also helps with recovery and wearing the brace correctly.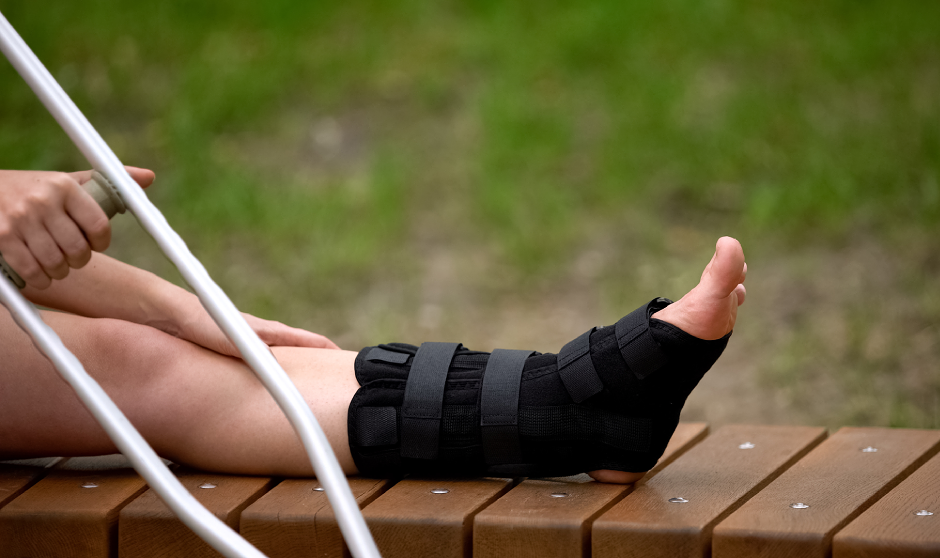 Do You Need a Brace? 
The specialists at One Bracing are experts in the bracing needs of a variety of patients. They are also very experienced with the requirements and measurements of many of the world's top bracing brands, including Bauerfeind, Breg, DonJoy, and Ossur. We will complete a Biomechanical Assessment for you, which includes a critical analysis of your body and all its moving parts. After the assessment, we will chat with you about your goals and concerns as well as those of the prescribing physician. We will also investigate your daily activities to try to find the brace or orthotic that will fit best into your lifestyle while looking after your personalized needs. 
One Bracing can supply custom bracing and orthotics through a variety of products. This can include custom measurements as well as newly innovated 3D scanning technology. By taking a 3D scan of your leg, the brace is unique to your leg. Along with a personalized fit, custom bracing also offers extended warranties and coverage abilities through extended benefits plans.
Call us at (250) 385-9600 or e-mail us at [email protected] to set up your appointment today!