5 Benefits of Seeing a Podiatrist
Do your feet ache at the end of the day? You're not alone! It's one of the most common complaints of people who do a lot of standing and even those who sit on the job. Foot pain comes in several varieties and causes, including plantar fasciitis, heel spurs, bunions, and even early stages of diabetic or other types of neuropathy.
To whom do you turn when you have foot pain and need answers? Podiatrists are healthcare providers who diagnose and treat foot, ankle, and lower-leg problems. Unlike general practitioners, they offer specialized care for conditions involving the feet and ankles. If you have foot problems, here's why your best option is a podiatrist.
A Podiatrist Offers Specialised Care a General Physician Can't Provide
If you have foot or ankle pain, or a foot injury, you may be tempted to see a general practitioner, but seeing a podiatrist is best for your condition. Why? Foot and ankle conditions are very specialized, so it's best to see a professional who has been trained intensively in the area. Podiatrists must complete a four-year undergraduate program in the sciences at an accredited university as well as additional four years at an accredited college of medicine in the United States and Canada. Then, a Doctor of Podiatric Medicine must also complete 1-3 years of hospital-based residency programs. Because of their extensive training, they can treat more complex foot and ankle conditions than many other types of doctors can.
They Can Help You with the Right Footwear and Recommend Orthotics if Needed
A podiatrist specializes in foot care and attention, so they are a great place to start when looking for comfortable shoes for daily wear and sports. Wearing the wrong shoes is a common cause of injury and foot and ankle problems. Wearing a pair of shoes designed for your unique foot anatomy and function helps prevent sports injuries and injuries on the job.
A podiatrist will examine your feet to see if you have anatomical or functional issues that need correction. The podiatrist will also measure your feet, so they can find the right fit for you. By looking at your feet, analyzing your gait, and talking with you, they can recommend shoes that will support your feet better and lower your risk of injury and foot pain. If you have fleet feet or turn your feet inward or outward too far, they can design a custom orthotic to compensate.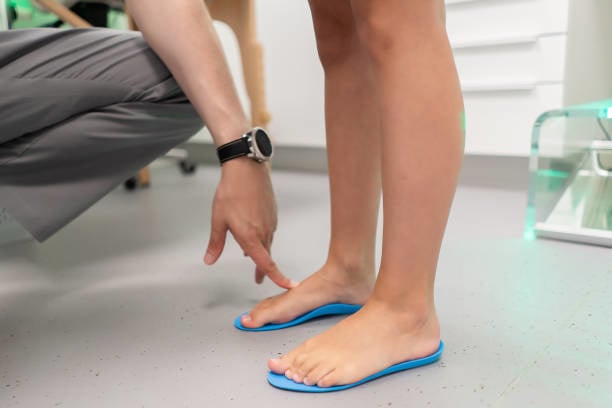 An orthotic is a device you wear inside your shoe to correct biomechanical problems of the feet and lower limbs. One may be helpful if you have flat feet, high arches, fallen arches, arthritis, nerve-related disorders, and other conditions that cause foot pain or affect your gait.
A Podiatrist Can Help You Be More Active
Podiatrists are experts in the foot and ankle. One can help you maintain a healthy, active lifestyle by relieving foot pain and preventing injuries. If you're a runner, you can benefit from the care of a podiatrist even before you have problems. When you run or do other high-impact exercises, your feet take a beating. A podiatrist can identify problems with your foot anatomy and your running gait that could cause future problems. Then they can help you correct them with proper footwear, or with orthotics, so you can stay more active and do it comfortably.
They Can Help You Avoid Injury
A regular check-up with your podiatrist offers a chance to identify foot and ankle problems early and provide solutions that will keep you as pain-free as possible throughout your life. This could mean prescribing orthotics to correct a problem before it becomes serious. They can also recommend exercises that strengthen muscles in your feet and ankles, so you're less prone to injury later. Podiatrists are one-stop shopping for what ails your feet and ankles.
A Podiatrist Can Make Your Feet Look Better Too
Many foot problems look unsightly and make wearing open shoes like sandals embarrassing. Bunions, hammertoes, ingrown toenails, and blackened toenails that runners experience are just some of the problems that make your feet look less attractive. Visiting a podiatrist can help you find solutions to these problems, so you feel more comfortable wearing summer shoes and going barefoot on the beach.
The Bottom Line
Podiatrists are specialists in foot and ankle care, and because of their specialized knowledge and training, they're a good choice for foot and ankle problems.