How Braces Can Combat Common Marathon Injuries
Whether it's your first marathon or your hundredth, keeping your body healthy and supported throughout training and on race day is a must. Even though marathon running is non-contact, it can strain your body because of constant pounding on the pavement and repetitive impact. This can cause knee pain, ankle strains, plantar fasciitis, and shin splints. This blog will cover which braces can combat common marathon injuries so you can keep running and meet your performance goals.
Which Braces Should Marathon Runners Get?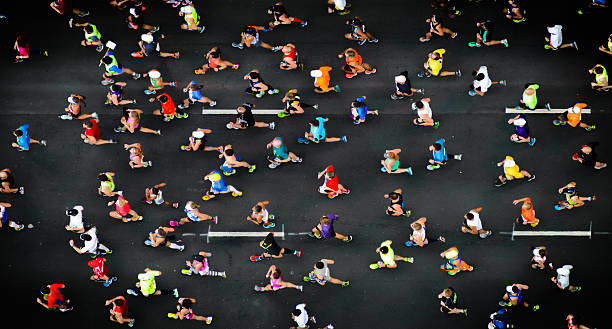 A misplaced step or running over uneven pavement can cause many injuries to marathon runners. If you are experiencing pain, or have been diagnosed with a specific condition, you should consider wearing braces while training or running. Below are some conditions that can be alleviated by looking for the proper bracing.
Shin Splints
Shin splints is the name for medial tibial stress syndrome. This type of pain runs along the shin bone, the large bone in the front of the lower leg. Shin splints are common in runners and often occur in athletes who have changed their training routines. The increased activity overworks the muscles, tendons, and bone tissue.
To keep in practice, look for a brace. The brace should be designed to combine both compression and bracing. You should be able to experience targeted, zonal compression to help manage shin pain. There are three distinct compression zones: a stability zone, a compression zone, and a comfort zone. Aim to find a brace with low-profile performance support that can help you focus on running and not on shin pain.
Plantar Fasciitis & Achilles Tendonitis
The plantar fascia is a thick, weblike ligament that connects your heel to the front of your foot. It acts as a shock absorber and supports the arch of your foot, helping you walk. Your plantar fascia ligaments experience a lot of wear and tear daily. Too much pressure on your feet can damage or tear the ligaments. The plantar fascia becomes inflamed, and the inflammation causes heel pain and stiffness. Achilles tendonitis is an overuse injury of the Achilles tendon, the band of tissue that connects calf muscles to your heel bone. It most commonly occurs in runners who have suddenly increased the intensity or duration of their runs.
A brace that can manage plantar fasciitis and Achilles tendonitis will be able to apply compression with each step. The brace should be supported and help reduce swelling while aiding in circulation. The brace should be lightweight and breathable, able to slip on easily. 
Runner's Knee
Chondromalacia patellae, also known as "runner's knee," is a condition where the cartilage on the undersurface of the patella (kneecap) deteriorates and softens. This condition is common among young athletic individuals. It can also occur in older adults who have arthritis of the knee. When you develop a runner's knee, it's essential to find a brace that will help provide comfort to the patella. Straps should be able to fit with the contours of the knee and work with the compression to evenly distribute pain-relieving pressure on the Patellar Tendon.
Ankle Injuries
Ankle braces are recommended for marathoners who need mild support for weak ankles, a sprained ankle, swelling/inflammation, or general ankle stability and support. It is recommended to look for one that provides compression, warmth, and support. It's also important to make sure that the brace is easy to put on and slim enough to wear during training or race day. Most of these braces can be worn on either the left or right foot and can be worn with most running shoes when properly fitted.
Overall, marathon running is an incredible accomplishment. Of course, if you encounter any pain during training or on the day of the race, it's important to stop and give yourself rest. If the pain persists, don't power through; check in with your doctor for a proper diagnosis and treatment plan. 
At One Bracing, we provide a wide range of braces that help relieve pressure and provide support. The specialists at One Bracing are experts when it comes to the requirements and measurements of many top bracing brands including Bauerfeind, Breg, DonJoy, and Ossur. One Bracing can supply custom bracing and orthotics through a variety of products. This can include custom measurements as well as newly innovated 3D scanning technology. By taking a 3D scan of your leg, the brace is unique to your leg. Along with a personalized fit, custom bracing also offers extended warranties and coverage abilities through extended benefits plans. To book a consultation, call us at (250) 385-9600 or e-mail us at [email protected].